Art works -Selection-
作品ギャラリー・セレクション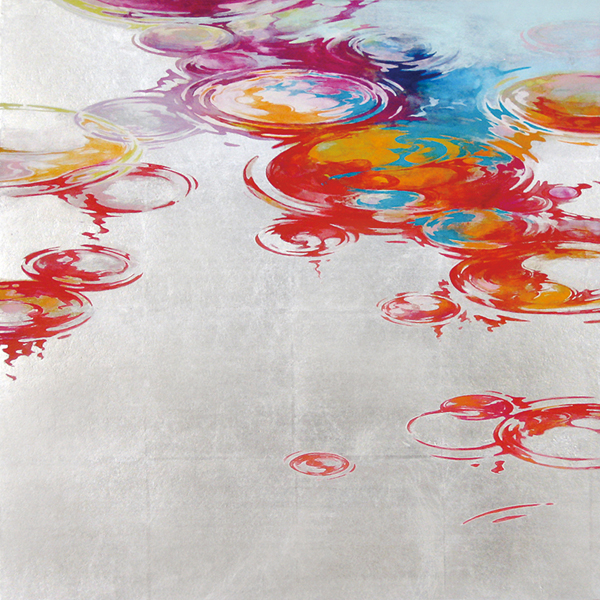 aquatic dance
S8 (45.5x45.5cm)
2011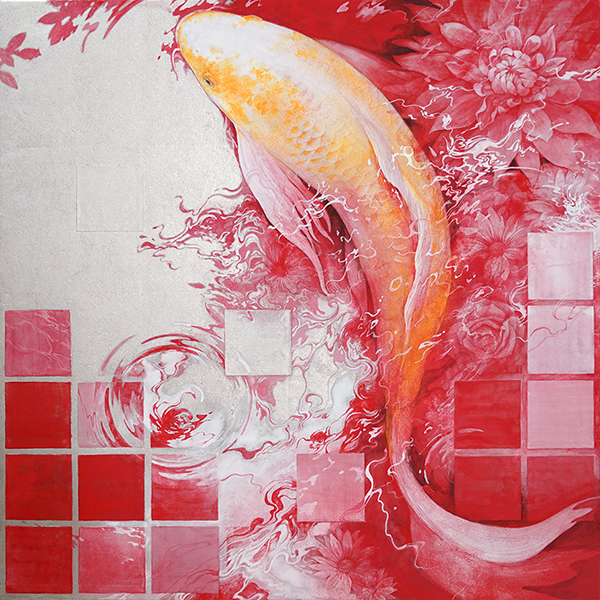 square garden
S8 (45.5x45.5cm)
2019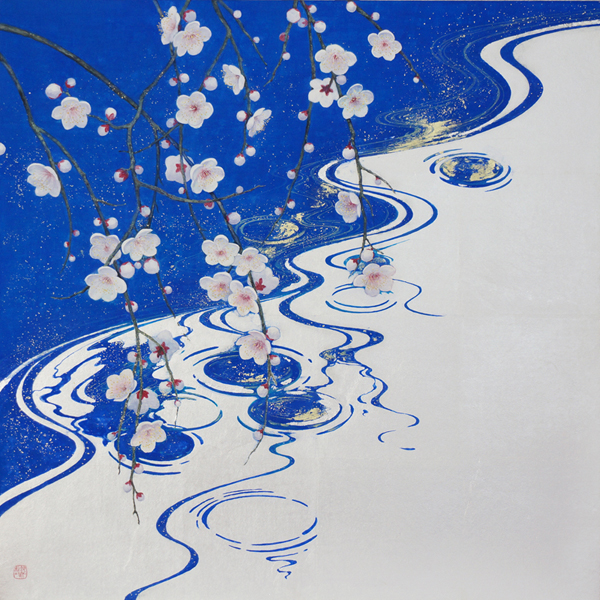 凛 ー白梅ー white plum blossoms
S10 (53.0x53.0cm)
2015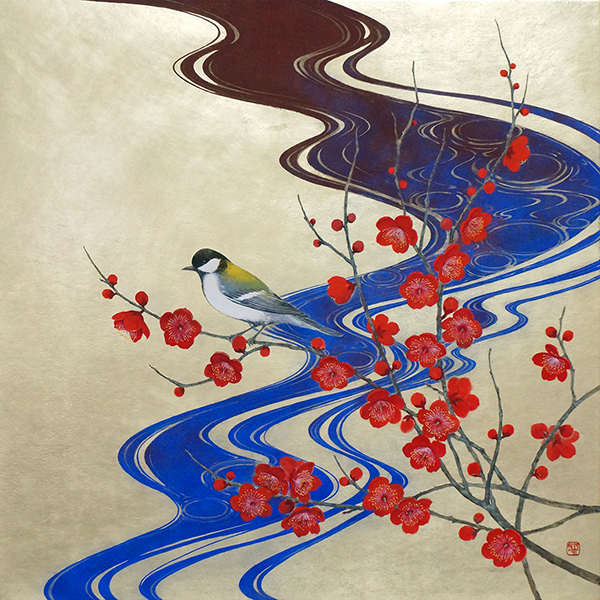 凛 ー紅梅ー red plum blossoms
S10 (53.0x53.0cm)
2018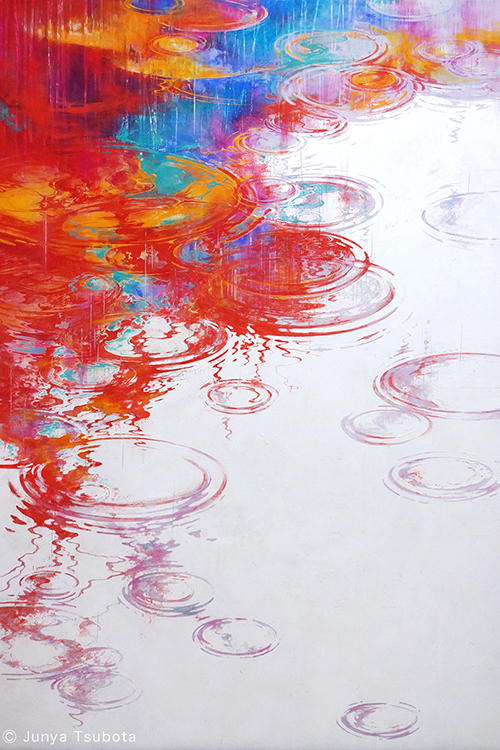 紅雨の舞 rain dance (colorful rain like flowers)
P50 (116.7x80.3cm)(部分)
2016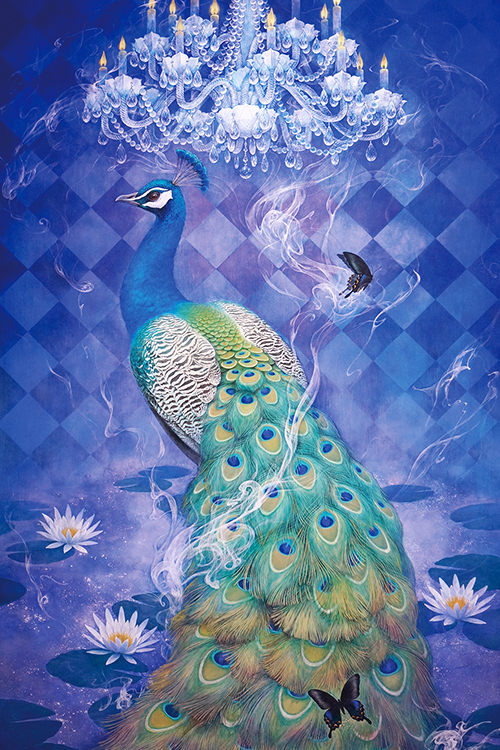 夜光幻想 noctilucence
120号変形 (193.0x120.0cm)(部分)
2017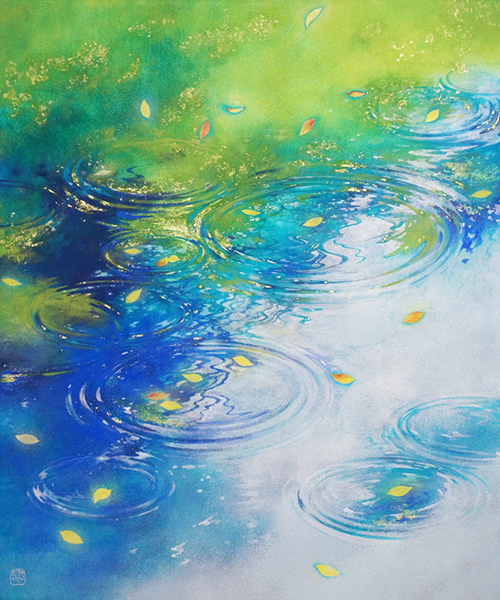 翠緑の息吹 breath of verdant green
F8 (45.5x38.0cm)
2018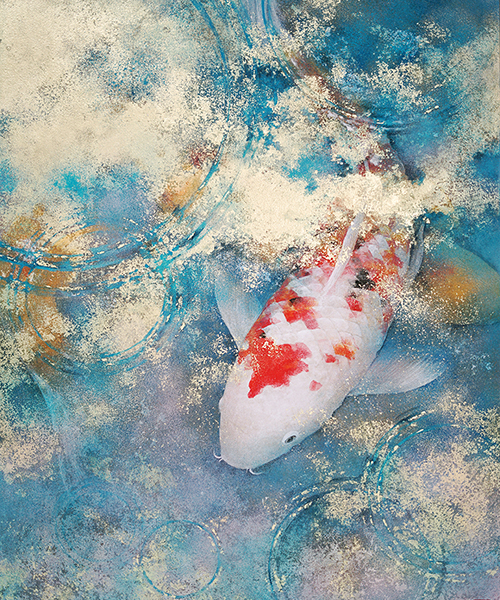 煌めきの刻 sparkled hours
P10 (53.0x41.0cm)(部分)
2020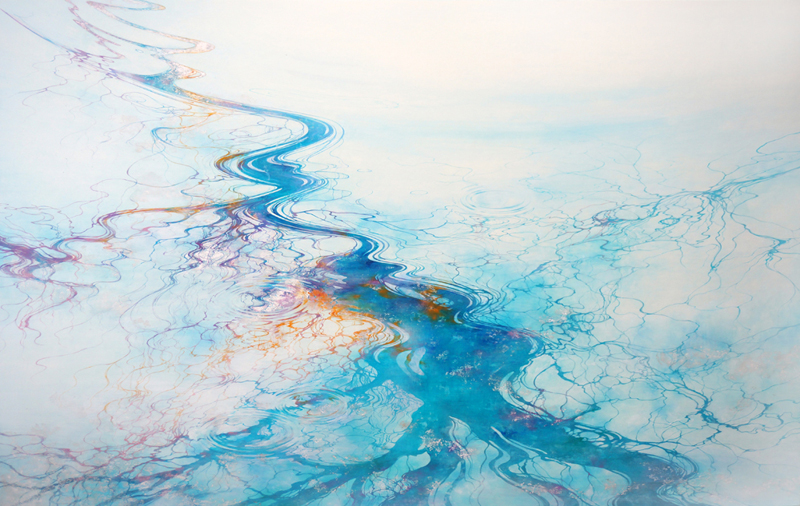 -roots-樹影の幻想
107.5x170.0cm
2014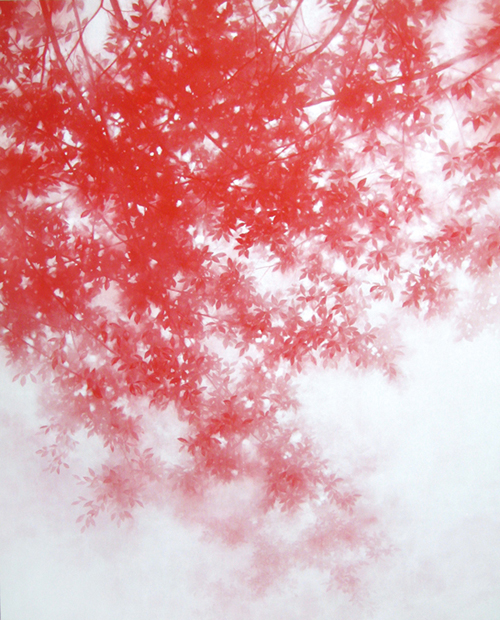 ふりそそぐ sunlight shining through leaves
F100 (162.2x130.3cm)
2012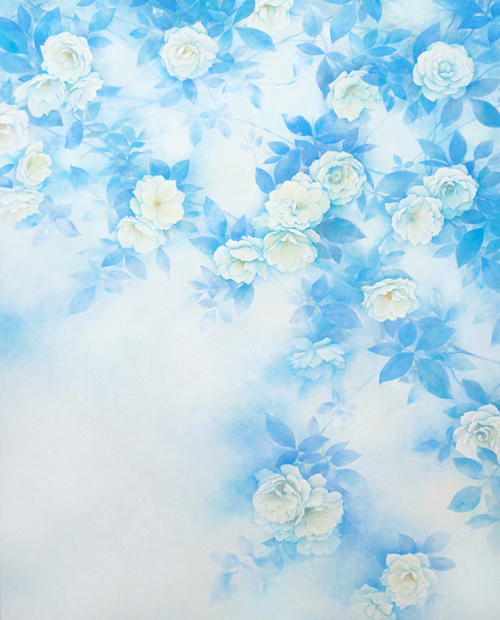 そらに咲く blooming in the sky
F30 (91.0x72.7cm)
2013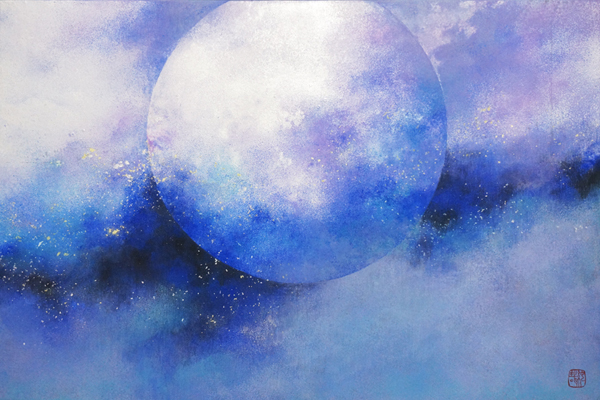 silver moon
P6 (27.3x41.0cm)
2016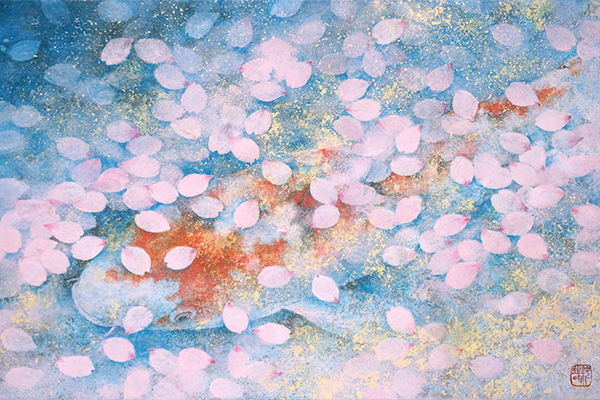 花筏 floral raft
P4 (21.2x33.3cm)
2019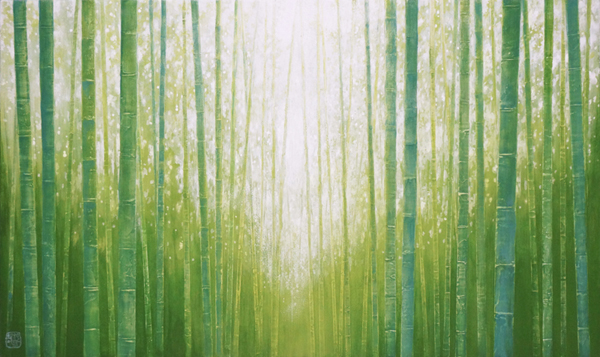 竹の奏 echoes of bamboo forest
M8 (45.5x33.4cm)
2017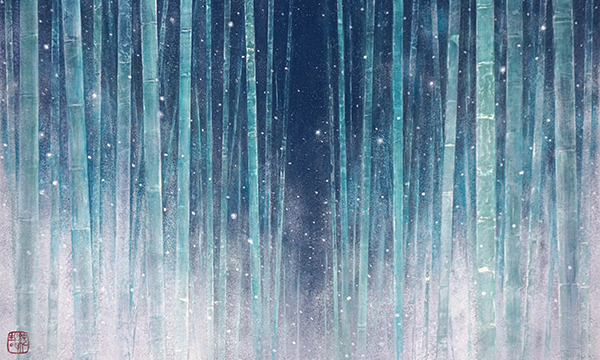 竹雪夜 snowy bamboo forest at night
F4 (24.3x33.3cm)(部分)
2017
白日夢 daydream
(部分)
2010
玉響 fleeting moment
P6 (41.0x27.3cm)(部分)
2019
春遊 enjoying spring
F6 (41.0x31.8cm)(部分)
2019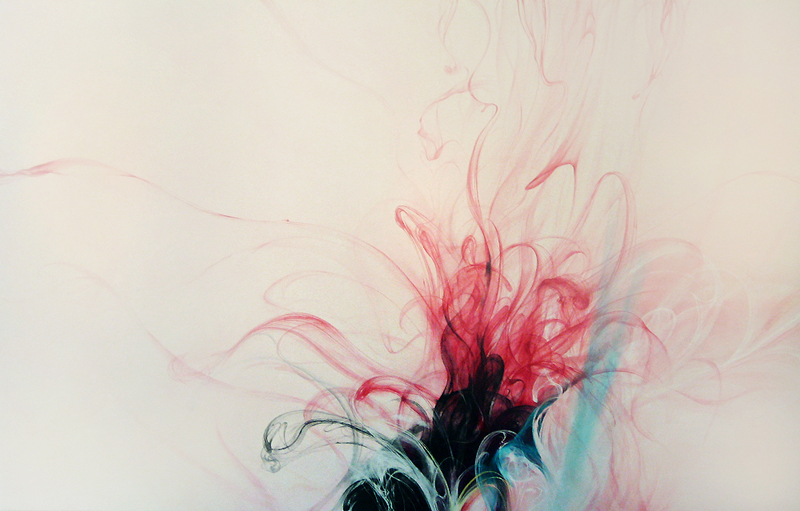 blooming lines
107.5x170.0cm
2011
画像の無断転載はご遠慮ください。
 ←Instagramで他の作品もご覧になれます。     You can see other works on Instagram.
---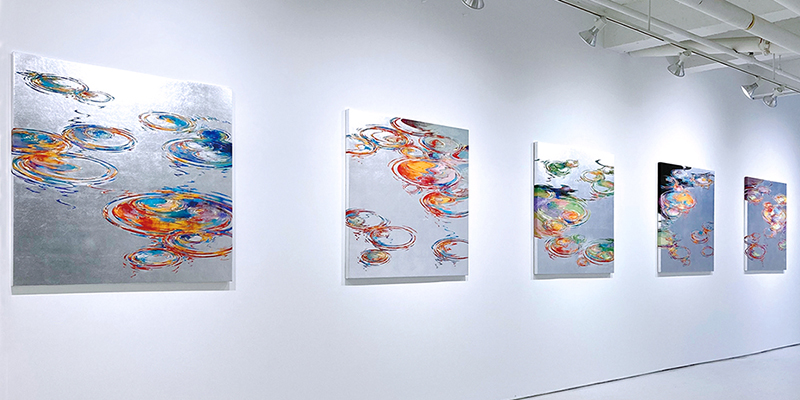 Cycle (環)
S40(100x100cm) ×5
2022
Seizan Gallery New York
水面を舞台に繰り広げられる波紋の律動。それは即興的な音楽のようであり、鏡に映し出された一瞬の幻影のようでもあります。
波紋のシリーズでは、水を想起させる枯山水のような世界観や金碧画の装飾性に着目しながら、現代における表現として多様な色彩と抽象性を取り込んだ作品を展開しています。普遍的な水の現象を通して、自分と周囲とのつながりを意識するとともに、境界を越えて誰もがそれぞれの感覚や解釈で柔軟に向き合うことのできるような作品を目指しています。 先人たちの表現に学び背景にある日本の四季・風土を意識しながらも、見るたびに新しい発見があるような画面、現代的な空間において新たな調和を生み出せるような作品を探求しています。
statement
My works focus thematically on the four seasons of Japan, particularly natural phenomena and forms, such as water and sky. Although these are figurative elements, the also contain abstract meaning, allowing an emotional interpretation through which I hope to communicate the aesthetic consciousness of Japan, along with a futuristic atmosphere.
While contemporary Nihonga has seen a growing diversity in materials, techniques, and expressions, I have tried to learn from the expressions of the form's pioneers, while also remaining conscious of the Japanese features which formed their back drop. I then aim to create works which will give birth to a new form of harmony when exhibited in contemporary architectural spaces.
---